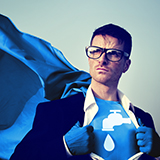 Calculating Indoor Water Use Reduction for LEED

About the Sponsor
Alex Spilger has worked on over 40 LEED projects across the LEED NC, CI, CS, ND and EBOM Rating Systems. He has served as the Project Team Administrator and LEED Consultant on 12 of those projects. In addition to his experience managing the people and processes involved with taking projects through LEED Certification, he has in depth experience documenting the Indoor Water Efficiency credit in the LEED NC, CS, EBOM and CI rating systems. As a well respected educator, Alex has taught over 100 workshops on the LEED Rating System through organizations such as the UC Berkeley Haas School of Business, the Sustainable Building Advisors Program and the California Center for Sustainable Energy.
Course questions/comments
(415) 632-6097
Gain practical experience applicable to a LEED BD+C or ID+C project. This online audio course includes hands-on training for the Indoor Water Use Reduction credit and prerequisite. The presenter coaches participants to complete these LEED credit calculations by hand, providing a solid foundation for the variables, assumptions and calculation methodologies. Participants will also practice with the LEED Online template that is required for LEED documentation.
Learning Objectives:
Explain how the WE Indoor Water Use Reduction credits differ between various LEED Rating Systems and indicate system synergies
Describe LEED Indoor Water Use Reduction credit calculation inputs, variables, assumptions & equations
Calculate LEED WE Credits by hand, including the baseline and design case flush and flow rates to determine indoor water savings
Complete the LEED WEp1 Credit Form through four practice problems utilizing a variety of fixture combinations
Course & Quiz Details:
10 Multiple Choice and True/False Questions
A score of 80% or higher is required to receive a certificate of completion