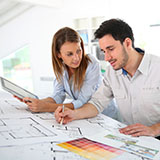 Essentials of the International Green Construction Code (IgCC) Chapter One: Scope and Administration

About the Sponsor
Green Code Knowledge provides exceptional, comprehensive and practical training, field inspection and consulting services based on the prescriptive and performance-based provisions within the International Green Construction Code (IgCC), International Residential Code (IRC), ICC-700 National Green Building Standard (NGBS), International Energy Conservation Code (IECC) and LEED For Homes (USGBC).
Course questions/comments
(763) 205-9293
This course will familiarize participants with the development, scope, intent and application of the administrative provisions contained in Chapter One of the International Green Construction Code, also known as the IgCC. Participants will gain an understanding of how the IgCC fits within the context of other green building rating systems and standards.
Learning Objectives:
Explain what IgCC is, how it was developed, and how it compares to other international codes and standards
Locate and discuss specific topics in Chapter One of the IgCC and identify the relationship to Chapter One of the International Building Code (IBC)
Identify the intent behind a given code provision and the basic requirements for meeting it
Relate these specific topics and provisions to real-world scenarios
Course & Quiz Details:
10 Multiple Choice and True/False Questions
A score of 80% or higher is required to receive a certificate of completion