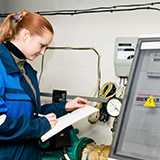 Existing Building Commissioning Process

About the Sponsor
Green Building Services is a team of building industry experts who help you access your building's greatest potential. Drawing on decades of combined experience, GBS identifies opportunities to improve the built environment, operations, and occupant behavior. Balancing technical details, dreams, and budgets, GBS sets goals and develops a plan to get you to each milestone. Their ability to understand the nuances of each project allows them to integrate seamlessly into your team, resulting in a strong partnership and success that can be proven with metrics.
Course questions/comments
(866) 743-4277
Learn about the RetroCommissioning process and how to implement this process on an existing building, with lessons learned from a commissioning professional and professional engineers.
Learning Objectives:
Explain the benefits of commissioning a building
Evaluate existing building opportunities
Demonstrate the RetroCommissioning Process
Determine how to implement retrocommissioning for an existing building, by applying case study knowledge and lessons learned
Course & Quiz Details:
10 Multiple Choice and True/False Questions
A score of 80% or higher is required to receive a certificate of completion