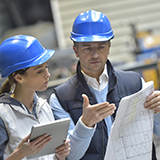 Introduction to Existing Building Commissioning and EBCx for LEED

About the Sponsor
RWDI | Green Building Services is one of the world's premier sustainability consulting and technical services providers. Delivering expert guidance in areas from integrative design to efficient operations, we help clients design, maintain and enhance green projects around the globe. Our consultants bring a unique combination of tools and capabilities to projects in every market sector, ranging in scale from small tenant improvements to major neighborhood developments.
Course questions/comments
(866) 743-4277
Learn about existing building commissioning and how this applies to LEED and your project, with lessons learned from commissioning professionals.
Learning Objectives:
Explain the benefits of commissioning a building
Understand the Existing Building Commissioning Process
Understand the role and impact of commissioning on the LEED certification process
Understand how to implement Retrocommissioning on an existing building and discuss lessons learned
Course & Quiz Details:
10 Multiple Choice and True/False Questions
A score of 80% or higher is required to receive a certificate of completion