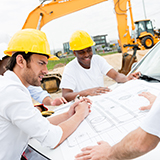 LEED Management for New Construction and Core & Shell Projects

About the Sponsor
T. Stern Sustainability LLC is a Seattle-based firm that delivers tailored green building solutions, suited to an organization's brand, mission and pro-forma needs. Teresa's collaborative approach helps client teams to integrate sustainable design and operations measures that boost performance and reduce the total cost of ownership, manage the LEED process, create, coach and expand internal green teams. T. Stern Sustainability also helps clients share success via case studies, signage & web content.
Course questions/comments
(206) 618-1845
This course will teach design team members and owners how to integrate sustainable design and related LEED tasks into standard design phases. We will discuss which LEED credits should be addressed in each design phase, and new feasibility, analysis and meetings that should be accounted for in budgets and scheduling. The course will also review the LEED Application process, and present tips on using LEED Online to manage the LEED documentation process.
Learning Objectives:
Identify how LEED tasks can be integrated into standard design phases to address sustainability concerns
Review tips to make LEED easier
Distinguish between the varying roles of design team members and how these roles can help address various environmental concerns for a project
Identify the steps in the LEED Application process
Describe how LEED Online can be used as a valuable LEED management tool and track healthy building materials for the project
Course & Quiz Details:
10 Multiple Choice and True/False Questions
A score of 80% or higher is required to receive a certificate of completion