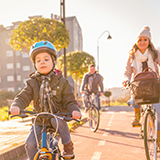 LEED for Neighborhood Development: Practical Approaches and Case Studies

About the Sponsor
Ann Griffin is a sustainable development planner with a passion for neighborhoods. She founded the firm Griffin Planning & Development in Dec. 2010, and provides project management, certification and energy efficiency services to business and trade associations, ecodistricts and local governments.
UrbanLens Planning, LLC provides strategic and creative solutions for land use planning and permitting and sustainability metrics. The firm's principal, Robin Scholetzky, has been a practicing urban planner in Portland, Oregon for over 15 years, working in the public and private sector for design, environmental and planning firms.
This course on LEED for Neighborhood Development provides case studies and on-the-ground information from leading industry professionals to give participants an insightful perspective and deeper understanding of sustainable neighborhood development and the ND certification.
Learning Objectives:
Gain a deeper understanding of the foundational principles that anchor the LEED for Neighborhood Development certification
Develop project team strategies to effectively use team resources and foster partnerships with local jurisdictions
Find out about case study LEED ND projects and the steps taken by successful developers to fulfill selected certification credits
Discuss how other LEED certification systems may support ND project efforts
Course & Quiz Details:
10 Multiple Choice and True/False Questions
A score of 80% or higher is required to receive a certificate of completion