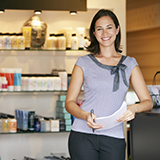 LEED Retail Intro: Addressing the Challenges of Green Store Design

About the Sponsor
T. Stern Sustainability LLC is a Seattle-based firm that delivers tailored green building solutions, suited to an organization's brand, mission and pro-forma needs. Teresa's collaborative approach helps client teams to integrate sustainable design and operations measures that boost performance and reduce the total cost of ownership, manage the LEED process, create, coach and expand internal green teams. T. Stern Sustainability also helps clients share success via case studies, signage & web content.
Course questions/comments
(206) 618-1845
This course provides an introduction to the newest LEED product, LEED Retail 2009, which includes both LEED Retail NC and LEED Retail CI. The course will help retail designers and retail project managers understand the challenges that retailers had using the standard LEED system that led to the creation of an alternative LEED product for retail. Any LEED AP working on retail projects will eventually need to learn how the LEED Retail system differs and explain to their clients the background of LEED Retail and discuss where the biggest opportunities lie in the context of green retail design.
Learning Objectives:
Describe the benefits of green & LEED retail
Compare the LEED Retail and standard LEED system
Identify specific strategies for retail projects that address retail sustainability challenges
Discuss key retail project components that can be addressed across a broad range of LEED Retail projects
Implement LEED and green strategies that other retail projects have used
Incorporate LEED Retail into company CSR and Sustainability Programs
Course & Quiz Details:
10 Multiple Choice and True/False Questions
A score of 80% or higher is required to receive a certificate of completion