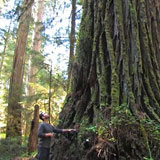 Sustainable Forest Management and FSC Certified Wood

About the Sponsor
GreenCE's mission is to support the necessary transition to a sustainable built environment by empowering design professionals to address the environmental, economic, and social impacts of buildings. GreenCE's course catalog includes LEED exam preparation, continuing education to maintain your AIA or LEED credential, as well as specialty education focused on topics such as ADA/Barrier-Free requirements. We are committed to designing the highest quality continuing education programs in the construction industry.
Course questions/comments
(800) 248-6364
This one hour movie explores the FSC certification process, fire suppression, the role of old growth forests, and watershed protection. Join us as we journey into redwood forests, down the Rogue River watershed, and talk to veteran foresters & loggers. LEEDv3 Materials and Resources Credit 7 for NC, Schools, and CS is analyzed in detail. Industry professionals offer advice about the FSC certification process, chain of custody requirements, and design team responsibilities.
Learning Objectives:
Describe the FSC certification process
Explain ways to achieve responsible forest management
Discuss the history of forest management
Discuss how fire suppression affects forests
Describe features of an old growth forest
Explain how a forest can protect watersheds
List the benefits of using sustainable wood products
Course & Quiz Details:
10 Multiple Choice and True/False Questions
A score of 80% or higher is required to receive a certificate of completion