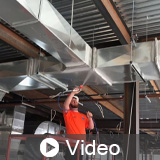 Breathe Easier with High Performance HVAC Sealants & Coatings

About the Sponsor
Carlisle HVAC Products encompasses Hardcast Duct Sealants and Adhesives, DynAir Airflow Hardware, and the Nexus 4 Bolt Flange Closure System. As an industry leader, Carlisle HVAC Products supplies superior products and engineered solutions to ensure the sustainability of your HVAC system. Our formulations exceed industry standards and are engineered to ensure consistent, quick and accurate installation. Our products and solutions deliver maximum efficiency, unparalleled quality, and unmatched savings, and to ensure these goals are met, we provide thorough training and unmatched field support.
Course questions/comments
(888) 229-2199
In this one-hour course, we will consider the components necessary to keep an HVAC system functioning efficiently. We will examine various types of sealants and coatings and how best practices concerning their installation and quality control can be used to increase the lifespan of the HVAC system. This course will explore the importance of minimizing air leakage in the HVAC to avoid environmental issues, such as high levels of energy consumption, and to improve the indoor air quality for the building's occupants. Through practical information and case studies, participants will be able to specify high quality duct sealers that contribute to green initiatives while increasing and building's life and promoting the safety of its occupants.
Learning Objectives:
Analyze how clean and properly sealed HVAC systems have a significant impact on indoor air quality (IAQ), therefore affecting the indoor environmental quality (IEQ), comfort, and health of building occupants.
Explain why reducing duct leakage is important in order to keep HVAC systems functioning efficiently and to reduce energy consumption.
Discuss the different types of sealing and coating options and the advantages of each, focusing on safety, durability, increased lifespan, and cost effectiveness.
Explore project applications to discover ways that quality sealants can be instrumental in both new construction and renovation projects that extend the life of the facility in the built environment.
Design Category (CSI Division):