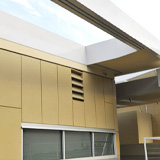 Developing and Building Sustainably with Fiber Cement Siding - Update

About the Sponsor
James Hardie has operations in the United States, Australia, New Zealand, Asia, and Europe. No matter where they operate, their goal is to remain at the forefront of the fiber-cement industry, capitalizing on our global leadership in building products and manufacturing and technology for both new home construction and remodeling.
Course questions/comments
(800) 426-4051
This course on fiber cement siding defines the 4 D's of Wall Design and explains the sustainable attributes such as improved indoor air quality, longevity, embodied energy, LCA parameters, and climate zoned cladding.
Learning Objectives:
Define Fiber Cement and illustrate the design decisions that affect enclosure systems
List the 4 D's of Wall Design and describe how water management and durability improve longevity of cladding
Compare and contrast embodied energy with recurring embodied energy and define Life Cycle Assessment and describe the system analysis parameters
Describe climate zoned cladding and list the environmental criteria for each of the zones
Identify the environmental concerns regarding Toxicity, VOC's and Painting and how these can be best addressed
Design Category (CSI Division):
(07) Thermal and Moisture Protection