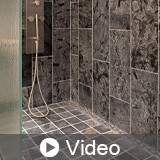 Downhill Design: Sustainable Shower Pan Strategies and Practices

About the Sponsor
Founded in 1946, Noble Company manufactures premium-quality, innovative products for the Tile, Plumbing, Heating and Cooling, and Fire Sprinkler Industries. Noble Company product applications include waterproofing, crack prevention, and sound reduction under tile flooring. Noble Company is an American-based company, manufacturing products in Michigan and Louisiana.
Course questions/comments
(231) 799-8000
In this course, we discuss the longevity, durability, and sustainability attributes of pre-fabricated shower pans compared to traditional mortar bed shower pans and how these affect occupants. Our team reviews pre-fabricated shower pan installation practices and how they reduce resource consumption and improve worker safety. Finally, we examine how pre-fabricated shower pans contributed to LEED projects.
Learning Objectives:
Discuss the longevity, durability, and sustainability attributes of pre-fabricated shower pans compared to traditional mortar bed shower pans and how these affect occupants
Review slope-to-drain pan methods and the pros and cons of traditional methods and how they may impact owners and occupants
Describe pre-fabricated shower pan installation practices and how they reduce resource consumption and improve worker safety
Examine LEED certified projects and how pre-fabricated shower pans contributed to the building
Design Category (CSI Division):