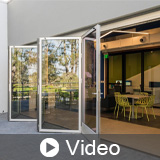 Expansive Openings for Energy Efficient Settings

About the Sponsor
Panda Windows & Doors™ was established in 1991 in Las Vegas, Nevada with a goal to create beautiful pieces of functional glass that perform as well as they look. The company designed, manufactured, and delivered its first aluminum framed folding door to a remodeled custom home located in Downtown Las Vegas. As design trends evolved and architects became interested in designing large moveable openings, Panda Windows & Doors™ found its niche market and began designing and engineering state-of-the-art custom glass wall systems that cater to the needs of both residential and commercial markets.
Today, Panda Windows & Doors™ offers more than 50 high-quality systems including Folding Doors, Lift & Slides, Horizontal Wall Systems, Pivot & French Doors, Multi-Slides, Retractable Screens, Panda-Select line, TS.X0, and Architectural Windows. Our systems have been installed in scenic destinations around the world!
Nearly 30 years later, Panda's presence continues to grow through its field representatives and distributors. With an expansive presence throughout the United States, Mexico, Canada, and the Caribbean, this small family business has grown to become a powerhouse in the building and design community.
During this one-hour course, 'Expansive Openings for Energy Efficient Settings', you'll uncover the features and benefits of large opening glass wall systems. Explore how architects and builders are using glass wall systems to expand spaces and connect occupants to the outdoors. We'll also drill into system components, glazing, and frames and the detailed characteristics of each that contribute to energy efficiency.
Learning Objectives:
Define large opening glass wall systems and describe their functional and performance benefits
Discuss how large opening glass wall systems can be used to expand the interior of a space and connect the indoors to the exterior environment
Explain how specific system components and design elements such as glazing and frames contribute to energy efficiency and ensure a weather-tight design
Summarize door selection and installation considerations and how they help determine the most appropriate system for a project
Design Category (CSI Division):
(08) Doors, Windows and Openings