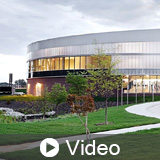 The Profitability of Healthy Spaces: The Business Case for Designing with Light and Air

About the Sponsor
Kingspan Light + Air is an award-winning manufacturer of translucent daylighting technology for high-performance building envelopes – walls, skylights and canopies. We team up with architects and designers to develop solutions that will enhance and optimize the role that natural light plays in the design of their buildings and inspire them to push the envelope. As expert problem-solvers, we leverage our knowledge and expertise to serve as the leading daylighting consultants for the architectural community and building industry.
Course questions/comments
800-759-6985
Natural light and air in the built environment are vitally important to not only the well-being of occupants and their productivity but also to the profitability of businesses and building owners. Join us in this one-hour course as we discuss innovative methods that bring natural light and air into buildings, improving light quality, indoor air quality, and thermal efficiency. Professionals will learn how to apply a variety of daylighting strategies in virtually any project, especially those applying for LEED v4.1 and WELL V2.
Learning Objectives:
Discuss the impact of building environment on the well-being and productivity of occupants, as well as the profitability of businesses and building owners
Recall innovative methods such as wall systems, skylights, and gravity vents that bring natural light and air into buildings, improving both light and indoor air quality
Illustrate daylighting strategies that consider a variety of environmental factors to maximize a project's light quality and thermal comfort
Evaluate common materials used in daylighting for their durability, thermal efficiency, end-of-life factors to ensure projects are safe for occupants and the environment
Apply daylighting strategies to projects that are applying for initiatives, such as LEED v4.1 and WELL v2, that promote green building design and construction
Design Category (CSI Division):
(08) Doors, Windows and Openings