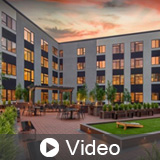 Sustainable Surfaces: The Benefits of Composite Pavers

About the Sponsor
Made with up to 95 percent post-consumer recycled rubber and plastics removed from the waste stream, BRAVA Pavers share the same commitment of responsibility to our environment. Sustainability doesn't end with raw materials. BRAVA Pavers are manufactured using a process that requires 95 percent less energy and produces 96 percent less CO2 emissions than conventional concrete pavers.
Course questions/comments
844-290-4196
During the Industrial Revolution, engineers looked for ways to create materials that were strong, waterproof, and long-lasting. New advances in technology led to the creation of beautiful, better-performing, longer-lasting, and sustainable materials for a wide use of applications.
In this course, we compare traditional pavers with composite paver systems and how they differ in durability, lifespan, and maintenance. In addition, we discuss how composite pavers produce a smaller carbon footprint and are a more sustainable solution than traditional pavers.
Learning Objectives:
Discuss the benefits of composite in-ground pavers, roof deck pavers, and resurfacing pavers and how they can help design professionals create more sustainable projects 
Contrast the sustainable attributes of composite materials over traditional pavers including carbon footprint, recyclability, durability, maintenance, and safety of occupants
Compare the costs, installation, design options, and applications for composite pavers and concrete pavers and how they benefit owners
Review case studies that illustrate the sustainable, durability, and safety attributes of composite pavers and best practices for design professionals
Design Category (CSI Division):
(32) Exterior Improvements