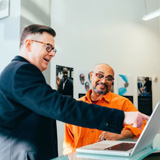 Exceptional Outcomes: How Building Automation Systems Can Increase Performance

About the Provider
Rheem Commercial Air represents a family of brands that provide heating and cooling solutions in a diverse range of Commercial applications. Manufactured in Fort Smith, Arkansas, Rheem Commercial Air has research, design, manufacturing, and innovative learning facilities throughout North America with products available nationwide through our extensive distributor network. Products are designed using our unique 360+1 Design Philosophy that embodies our commitment to examine every aspect of all products we develop from every angle to ensure we design with performance, installability, serviceability, and durability in mind.
Learning Objectives:
Explain how a Building Automation System (BAS) can improve building and HVAC system performance, increase longevity, reduce maintenance costs, save money, and provide sustainable solutions for owners and design professionals.
Identify the details that should be confirmed up-front to ensure the BAS operates properly, meets building owner expectations, and contributes positively to equipment safety, longevity, and reliability.
Discuss the different controls systems protocols and the benefits of having a standard protocol in a BAS and third-party integration.
Review examples of how BAS can increase occupant comfort and productivity, save energy, reduce peak loads, offer remote troubleshooting, and make building operations more effective.
Design Category:
(23) Heating, Ventilating and Air Conditioning