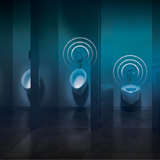 Smart Restrooms For Smart Cities: How IoT Technology Can Improve Sustainability and Customer Experience

About the Provider
TOTO is the world's largest plumbing products manufacturer. We offer a complete line of commercial and decorative plumbing fixtures and fittings, faucets, accessories, shower and flush valves, as well as lavatories, toilets, Air Baths and urinals. More than 1,500 TOTO engineers and their colleagues are committed to achieving the seamless integration of performance, conservation, technology, and innovation. We concentrate on creating a more enjoyable bathroom experience through products that infuse sophisticated style with substance, optimize water conservation and provide consistent, exceptional performance.
Course questions/comments
(800) 726-0882
Learning Objectives:
Discuss the Internet of Things (IoT) in the built environment and how it can help design professionals create sustainable buildings and improve occupant experience.
Describe how the Internet of Things (IoT) can help design professionals working on LEED v4.1 and WELL v2 projects increase sustainability and enhance the comfort of occupants.
Explain how the Internet of Things (IoT) can help building occupants live better and work smarter by empowering building managers with right data to understand user patterns, to automate processes, enhance maintenance productivity, and make better decisions.
Examine how Smart Restrooms can help design professionals improve safety, hygiene, and plan future design considerations to save money and precious resources.
Review how megatrends and global threats like climate change and pandemics can be mitigated by Internet of Things (IoT) solutions for more adaptability in applications in Smart Cities.