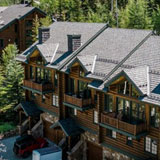 Sustainable Resilience: The Benefits of Synthetic Roofing

About the Provider
Brava manufactures premium-quality synthetic roofing that combines the authentic look of Shake, Slate and Barrel roofing with unmatched performance. As a leading alternative to traditional roofing material, our composite roofing products last longer, are far more durable than traditional cedar shake, slate and Spanish barrel tiles, and are much more aesthetically and architecturally pleasing than asphalt shingles and concrete tiles.
Learning Objectives:
Review the history of synthetic building materials which led to the creation of better-performing, sustainable materials for a wide use of applications.
Compare traditional roofing systems with synthetic roofing systems and how they differ in durability, lifespan, maintenance, and carbon footprint.
Contrast the sustainability attributes of synthetic materials over traditional materials including recyclability and resilience against fire to protect building occupants.
Discuss how synthetic roofing can protect against rot and pests and provide low maintenance for building occupants.
Design Category:
(07) Thermal and Moisture Protection