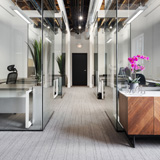 Thermal Comfort, Unpacked: A Comprehensive Survey of HVAC Systems to Improve Design and Operational Understandings

About the Provider
Rheem Commercial Air represents a family of brands that provide heating and cooling solutions in a diverse range of Commercial applications. Manufactured in Fort Smith, Arkansas, Rheem Commercial Air has research, design, manufacturing, and innovative learning facilities throughout North America with products available nationwide through our extensive distributor network. Products are designed using our unique 360+1 Design Philosophy that embodies our commitment to examine every aspect of all products we develop from every angle to ensure we design with performance, installability, serviceability, and durability in mind.
Learning Objectives:
Define and discuss the effects of thermal and acoustic comfort on building occupants that improve health, wellness, and productivity while evaluating the cost-efficiency, design considerations and the evolving HVAC industry.
Explore the Commercial HVAC market and comparatively analyze the types of HVAC systems available for commercial use that optimize durability, innovation and sustainability.
Identify the details that are important to ensure optimal occupant comfort and details that should be confirmed up-front to avoid future change-orders, unexpected costs, and errors that can cause safety concerns or negatively affect enhancing longevity and reliability.
Recall important unit placement considerations for optimized performance and articulate the importance of proper service and maintenance clearance for operation and safety.
Discuss how HVAC systems can contribute to LEED v4.1 Energy and Atmosphere and Indoor Environmental Quality credits and increase sustainability for a project.
Design Category:
(23) Heating, Ventilating and Air Conditioning