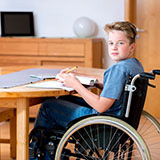 The Details of Accessible Design and Construction

About the Sponsor
Course Author:
Mark Jackson, Accessibility Consultant is an International Code Council (ICC) Certified Accessibility Inspector/Plans Examiner with specialized expertise in the accessible design and construction requirements of federal, state and local laws and codes, including the Americans with Disabilities Act (ADA). Jackson routinely provides accessibility services and training to key players in the building industry. He is an adjunct instructor at New York University and the Pratt Institute, New York, NY.
Course questions/comments
(203) 857-0200
This one-hour audio course highlights the common oversights architects and contractors often make when addressing accessibility on multifamily projects in two critical areas of project development: design and construction. We will review real-life examples coupled with simple solutions to help you in creating compliant projects that meet the needs of all users and the required accessibility standards. Learn how to take a proactive approach to accessible design and avoid litigation through this informative CE course!
Learning Objectives:
Identify the typical accessibility oversights made during design and construction
Adjust plans to account for construction of accessible spaces and installation of accessible elements and identify accessibility mistakes through application examples and explain strategies on how to avoid them
Describe a basic overview of accessible design and construction requirements
Properly detail and specify plans to ensure accessibility compliance is achieved