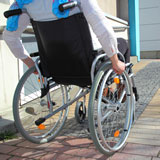 How Accessible is your Work Place?

About the Sponsor
Abadi Accessibility serves the building community as an accessibility specialist and offers plan reviews, building inspections, site assessments, training and education to their clients.
Course questions/comments
(214) 403-8714
A workplace is a complicated space when it comes to understanding the requirements for accessibility. Some spaces are exempted while some require full access. This seminar gives an overview of what requirements exist in the ADA about work areas and when the ADA Standards apply.
Learning Objectives:
Explain the difference between work area and employee areas and how they affect building occupants
Discuss how to design for other disabilities and understand limitations for building occupants
Define Title I and Title III in the ADA and how it directly has an impact to all occupants of the building
Identify how to design accessible workspaces to ensure healthy and safe areas for occupants