Dr. Marilyn Black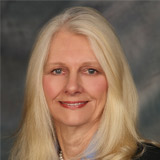 Vice President and Senior Technical and Strategic Advisor, Chemical Insights Research Institute
Founder Air Quality Sciences, Inc. and The GREENGUARD Environmental Institute
A Public Health scientist, Dr. Black is a leader in the study of environmental pollution and its impact on human health. Dr. Black founded the GREENGUARD Environmental Institute, a nonprofit organization that provides verification of chemical safe products. GREENGUARD has been instrumental in helping transform products to safer formulations for the betterment of the environment and human health.
Following research and teaching, Dr. Black founded Air Quality Sciences, Inc. (AQS,) a research company focused on measuring sources of indoor pollution and associated health effects. Dr. Black currently leads Chemical Insights Research Institute of Underwriters Laboratories Inc., a nonprofit organization, providing scientific insights for societal well-being.
She received a PhD from the Georgia Institute of Technology, M.S. from the University of Florida, and B.S. from the University of Virginia, all in Chemistry. She also holds a professional certification in Artificial Intelligence: Implications for Business Strategy from the MIT Sloan School of Management.