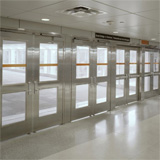 Acoustic Doors and Green Design

About the Sponsor
Established in 1955, AMBICO is a family owned company and originated as a hollow metal door manufacturer. Over 65 years, AMBICO has evolved into a world class, industry leading manufacturer of specialized doors, frames and windows; those that meet performance standard and those that are made using decorative metals.
Thursday, October 15, 2020 - 12:00pm to 1:00pm EDT
Sound transmission control is an issue that should be addressed in the design of any building. Acoustic comfort is part of providing an amenable interior space, and it requires having the proper level and quality of sound to utilize a space as planned. This course looks at the components, features, and the role of acoustic door assemblies in occupant comfort in both workplace and school environments.
Learning Objectives:
Describe the role of acoustics in occupant comfort.
Review the requirements for LEED® v4.
Explain the term "acoustic assembly" and its importance in specifying acoustic doors.
List the key components of an acoustic door and frame assembly and describe their role in achieving an STC rating.
Describe the features of ADA compliant acoustic door and frame assemblies that meet ASTM A117.1. requirements.