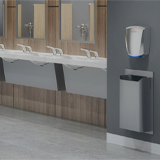 A Clean Slate: Hygienic Public Restroom Design with WELL v.2

About the Sponsor
World Dryer, the leading global manufacturer of hand dryers, is the only company of its kind to offer a full portfolio of fast, state-of-the-art hand dryers designed to fit the individual needs of any facility. For more than 60 years, our products have set the industry standard by integrating leading technology, convenient functionality and attractive design to give every user an unparalleled experience. Our high-speed hand dryers are all designed to deliver a faster, more effective drying experience while reducing operational costs.With more than 800 distributors worldwide and over 18-plus certifications representing more than 85 countries around the globe, World Dryer truly is the hand-dryer manufacturer of choice.
Course questions/comments
(800) 323-0701
Tuesday, December 6, 2022 - 12:00pm to 1:00pm EST
Now more than ever, public restrooms must be clean and comfortable for all users. However, exactly what that looks like has been up for debate. Join us in this one-hour course as we make the case for multi-stall public restrooms that address users' concerns of privacy and hygiene through partitions, fixtures, hand dryers, and beyond. Participants will learn how to design new and existing restrooms that help projects fulfill WELL Building Standard v.2 requirements by promoting public health and safety.
Learning Objectives:
Identify emerging trends in public restroom design and how multi-stall restrooms address users' concerns of privacy and hygiene
Evaluate partition materials and types to ensure public restroom stalls are designed to be safe, sustainable, and accessible for all users
Illustrate how touchless restroom fixtures promote sanitation and water efficiency
Demonstrate how warm air hand dryers equipped with HEPA filters can encourage proper hand hygiene and sustainability