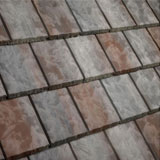 Concrete Tile Roofing: The World's Most Sustainable and Energy Efficient Roof System

About the Sponsor
American Made. American Owned. Eagle Roofing Products is a division* of Burlingame Industries, a California based privately held, family-owned organization. From these family roots, our business philosophy and vision have blossomed. Founded three decades ago by Robert Burlingame, Eagle began operations in the fall of 1989 with just one high-pressure concrete tile extrusion machine located in Rialto, California. In a ten-year period, the Rialto plant serviced all of California, Arizona and Nevada with a capacity to produce concrete roof tile for over 83,000 homes per year. Fast forward to present day and Eagle's Rialto facility continues to be the largest in North America. In addition to Rialto, we have manufacturing plants in Phoenix, Arizona, as well as Stockton, California and Sumterville, Florida meeting the demand for concrete roof tile across the United States and Canada. Furthermore, Eagle has grown to a workforce of over 800 employees that are knowledgeable in not only concrete roof tile but in regional trends and needs. Our expertise in the building and roofing industries, coupled by our extensive array of profiles and colors, enables us to provide our customers with high quality concrete roofing products that are aesthetically beautiful, long-lasting and environmentally friendly.
Tuesday, November 7, 2023 - 12:00pm to 1:00pm EST
In this one hour course, we will take an in-depth look at the sustainability and energy efficient attributes of concrete tile roofing, including the near zero-waste manufacturing process, life-cycle cost and performance versus temporary asphalt shingle roofing as well as the installation process which enhances the inherent thermal mass attributes of concrete tile roofing.
Learning Objectives:
Discuss how the versatility of concrete tile roofing combined with its durability makes it one of the most sustainable roofing products available
Consider the value of products composed of a small number of raw materials that are sustainable, including some recycled materials
Review the near zero waste manufacturing process of concrete roof tiles from the introduction of raw materials to the finished product
Compare and contrast an installation method that exploits the air permeable characteristics of concrete tile roofs versus temporary roofing materials
Identify key performance characteristics of concrete tile roofing including wind and hail resistance
Analyze the longevity, durability, and overall life cycle cost analysis of concrete roof tile compared to asphalt shingles, wood shakes, slate, and metal
Confidently specify concrete tile roofing as an alternative to slate, metal, wood shakes, and temporary asphalt shingles