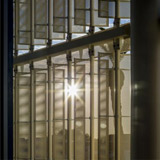 Daylighting Success Strategies with Sun Control Louvers

About the Sponsor
Since 1985, we have been located in beautiful West Palm Beach, Florida, in the heart of Hurricane Alley. Savannah Trims is a marketing arm of 6 distinguished companies, all with a related theme: Architectural Building Specialties, as related to fine quality building components. We at 'Savannah' are specialists in the application of exterior building components such as Exterior Blinds, Glass Skylights and Standard Skylights, and Flood Barriers. Our combined experience totals over 100 years of hands on working with these products.
Wednesday, November 16, 2022 - 12:00pm to 1:00pm EST
Access to daylight has been shown to increase productivity in the workplace, improve students' performance, and even increase sales in retail environments. A well-designed daylit building also uses less energy, conserving natural resources and reducing air pollution. In this course, we explore how advanced daylighting strategies using shading devices such as overhangs and vertical and horizontal fins contribute to LEED v4.1, save energy, improve indoor comfort for occupants.
Learning Objectives:
Describe the role that exterior sun controls play in improving the performance of sustainable buildings and how they contribute to occupant comfort
Review how exterior sun control devices can help contribute to the LEED v4.1 ratings system including the Daylight and Sourcing of Raw Materials credits and increase occupant comfort
Discuss blade material choices and finishes and the sustainable attributes and environmental impact of these product selections
Identify the essential elements in specifying sun control devices including support elements, bracketry, and attachment