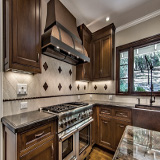 Decorative Hardwood Plywood - A Beautifully Sustainable Choice

About the Sponsor
Founded in 1957, Columbia Forest Products is North America's largest manufacturer of hardwood plywood and hardwood veneer products. Columbia's decorative interior veneers and panels are used in high-end cabinetry, fine furniture, architectural millwork and commercial fixtures. Columbia's products are sold through a network of wholesale distributors, mass merchandisers and original equipment manufacturers from three distinct business units: plywood, veneer and global services.
Course questions/comments
(800) 637-1609
Tuesday, December 8, 2020 - 12:00pm to 1:00pm EST
In this one-hour course, design professionals will gain in-depth knowledge of decorative hardwood plywood, focusing on its manufacture, uses, and sustainability. It will discuss visual grading, the natural characteristics of wood, types of veneer matching and core options. By the end of this course, architects and designers will be able to evaluate grades of decorative hardwood plywood and illustrate how it can be used to satisfy sustainability standards.
Learning Objectives:
Discuss the manufacture of decorative hardwood plywood, especially in relation to its many applications and sustainability.
Identify types of core and adhesive materials used to create decorative hardwood plywood, particularly non-toxic options that don't contain harmful substances.
List types of veneer, differentiating between species, grading, and cut options.
Evaluate decorative hardwood plywood in order to specify its use to apply for LEED and LBC credits.