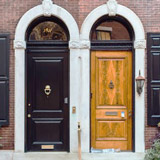 Opening the Door to Sustainability

About the Sponsor
It began with a passion: make the finest architectural wood doors. That drive opened the door to so much more. From standard commercial solid core wood doors that contractors trust to custom ecofriendly doors that architects appreciate, Oregon Door's experienced team builds the doors that build your reputation. Enjoy above-and-beyond project flexibility, unexpected insight, attention to every detail, and on-time/on budget delivery. With The Oregon Way, you're not specifying a product, you're welcoming in the best team in doors.
Course questions/comments
541.679.6791
Thursday, August 22, 2019 - 12:00pm to 1:00pm EDT
Doors help today's green buildings increase energy and resource efficiency as well as create safer and healthier work places. In this one-hour live webinar we will review the inherently sustainable attributes of doors. Environmental responsibility goes far beyond the mere selection of wood doors for a project. We will discuss how a door manufacturer can embrace and incorporate sustainability and environmental responsibility into daily operations and processes.
We will review a variety of green building codes and standards and what to look for when specifying architectural doors, including certifications for improved indoor air quality. In addition, a variety of door options will be examined, from surface and finish characteristics to core construction and specialty selections. We will conclude the hour with a 10-minute question and answer session.
Learning Objectives:
Examine the attributes of an environmentally responsible door manufacturer
Describe how architectural doors can meet green building codes, standards, and rating systems
Discuss product transparency documentation used to specify environmentally friendly doors
Analyze surfaces, finishes, cores, and specialty options to consider when specifying sustainably created and sourced doors