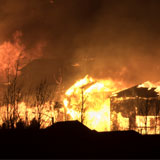 The Latest Science on WUI Fires and the Built Environment

About the Sponsor
Chemical Insights Research Institute (CIRI) of Underwriters Laboratories Inc., a nonprofit organization, is dedicated to scientific research, publication, education, and communication on environmental exposures resulting from technologies and practices, their impact on human health and processes for reducing risks. CIRI provides actionable data and resources to help manufacturers, educators, healthcare providers, and consumers make informed environmental health decisions. Our work lets people around the world know what chemicals are in the air we breathe, the water we drink, and the products we interact with every day. Our leadership role is to provide science or knowledge to implement improved practices, alternative product design, and changes that enable safer products and healthier environments.
Monday, November 6, 2023 - 12:00pm to 1:00pm EST
What is the impact of wildfires in the wildland urban interface (WUI) on the indoor environment? Empowered with the stewardship of occupant health, safety and welfare, building and design professionals need an understanding of the impact of wildfires on the built environment to navigate the needs of modern buildings. Our buildings and infrastructure must be resilient enough to protect the safety of the people inside, while responding to site-specific needs and challenges. This session is building on new research findings regarding materials, chain-of-custody and a new case study. Climate change and extreme weather continue to intensify the risk and severity of wildfires. The WUI, where the built environment meets the natural environment, is critical to protect. This area has expanded significantly over the last twenty years, making it the fastest growing land use type in the continental U.S. The vast majority of new WUI areas are caused by development – communities that are at risk because of their siting within the WUI. Consideration must be given to protecting the health and safety of building occupants as well as managing the impact of our structures on the health of our natural resources. Experts on fire risk, chemical safety, air quality, materials, research-based solutions and applications will guide the attendees through science-based observations and research. Attendees will be navigated through decision-making regarding fire risk, indoor air implications, material selections and remediation through a first-hand experience case study of the Marshall Fire's impact on a residence in Colorado. Our panel discussion focuses on storytelling the science and equips attendees with the knowledge to take action in discussions with clients and in their day-to-day practice. Attendees will be empowered to make the case for prioritizing resilience and understand their increasing impact on resilient design, material selection and healthy indoor air quality.
Learning Objectives:
Recognize the impact of wildfires on the built environment, based on new scientific research findings
Describe the health impacts from wildfires including the chemicals of concern from building construction materials and how they might impact the indoor and outdoor environments
Prioritize best practices and strategies for design, construction and remediation to provide a nexus of fire safety and chemical safety
Connect science-based lessons learned with design and construction solutions that foster healthier indoor environments through a case study of the Marshall Fire in Colorado