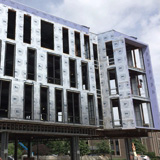 Polyiso - The Next Generation Air & Water Resistive Barrier

About the Sponsor
Rmax, a business unit of the Sika Corporation, has been creating insulation solutions based on the latest building science since 1978. Our full line of high-quality, polyiso-based wall, roof and specialty insulation products for commercial, industrial and residential applications deliver maximum R-values and minimum environmental impact, with efficiency in installation, cost and design. Rmax insulation has been designed and tested to provide building envelopes with superior insulating protection while meeting the newest codes and requirements. Our engineered products and solutions allow for ultimate efficiency through multiple design options, creating ease of construction and reduced energy usage. This leads to a better building envelope while adding to the bottom-line through both material and labor savings - making Rmax an excellent choice for commercial and residential applications. As new developments in building science emerge, rest assured that Sika-Rmax will remain on the forefront, manufacturing tested, engineered solutions that serve Architects, builders, owners and occupants alike. Our people understand the diverse markets in which our products are used. Their integrity and responsiveness work to your advantage.
Course questions/comments
972-387-4500
Friday, November 18, 2022 - 12:00pm to 1:00pm EST
To educate design professionals about 'Building Longevity and Sustainability' and how these concepts impact making buildings more energy efficient, this course examines how foil-faced Polyiso continuous insulation can function as multiple control layers, providing Air and Water Resistive Barriers, providing a thermal control layer, and meeting NFPA 285 fire code standards. Additionally, this course reviews building codes and standards to meet the continuous insulation requirements in steel stud building envelope designs, the benefits of using polyisocyanurate insulation in wall assemblies, and how to specify it to meet these requirements for optimal energy performance and design efficiency.
Learning Objectives:
Understand building sustainability and longevity
Learn about the science behind thermal, air, and moisture control for steel stud construction
Interpret code requirements for building envelope design and performance
Discover how polyisocyanurate insulation meets code requirements and outperforms traditional methods for optimum control