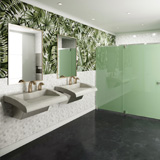 Six Steps to Sustainability: Green Building Strategies for Commercial Restrooms

About the Sponsor
Bradley Corporation features an industry-leading assortment of commercial plumbing products in the world. Architects and specifiers look to Bradley for the most innovative products in categories such as: washfountains, multi-station lavatory systems, terreon solid surface products, emergency eyewash fixtures and drench showers, electric tankless heaters, patient care lavatory units, commercial faucets, commercial & group showers, washroom accessories, solid plastic locker systems, washroom partitions. Bradley makes it easy to specify these products through a seasoned customer service staff and the best information tools in the industry.
Tuesday, November 8, 2022 - 12:00pm to 1:00pm EST
Every room in a building should be good for the environment—starting with the restroom! Join us in this one-hour course as we discuss practical ways to incorporate green building strategies in commercial restrooms. Participants will not only learn about the six principles of sustainable design but also gain up-to-date information about green building initiatives like LEED v4.1, WELL v2, and LBC that they can integrate into a variety of commercial restroom applications.
Learning Objectives:
Identify the six principles of sustainable design and explain their importance to building integrity, occupant wellbeing, and environmental health
Recall sustainability standards and green building initiatives such as LEED v4.1, WELL v2, and Living Building Challenge 4.0 that encourage sustainable design
Illustrate practical ways to incorporate sustainable design and green building initiatives when designing commercial restrooms in a variety of applications
Develop new and existing commercial restroom designs that go beyond traditional understandings of sustainability to prioritize human health and wellness