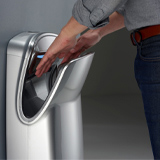 The Wave of the Future: Sustainable Hand Dryer Solutions

About the Sponsor
World Dryer, the leading global manufacturer of hand dryers, is the only company of its kind to offer a full portfolio of fast, state-of-the-art hand dryers designed to fit the individual needs of any facility. For more than 60 years, our products have set the industry standard by integrating leading technology, convenient functionality and attractive design to give every user an unparalleled experience. Our high-speed hand dryers are all designed to deliver a faster, more effective drying experience while reducing operational costs.With more than 800 distributors worldwide and over 18-plus certifications representing more than 85 countries around the globe, World Dryer truly is the hand-dryer manufacturer of choice.
Course questions/comments
(800) 323-0701
Thursday, June 11, 2020 - 12:00pm to 1:00pm EDT
In this one-hour course, we will discuss how hand dryers have evolved from the first generation of hand dryers to the efficient, hygienic wave of the present and future. Examining the newest features available, we will explore what to consider when selecting hand dryers, to include speed, heat, sound level, durability, and cost which is relative to the venue in which the dryers will be located. We will also discuss the various features of high-speed hand dryer elements, including HEPA filter, antimicrobial technology, ADA compliance, and maintenance indicator lights that are used to accommodate the individual requirements in a host of application environments. Participants will discover the importance of specifying high-speed, energy efficient hand dryers that contribute to green initiatives. Case studies will also be reviewed to illustrate challenges and solutions that were rectified by the addition of hand dryers in order to improve operation costs and the welfare of users.
Learning Objectives:
Identify the different types of hand dryers and their distinctive features to determine which environment each one is best suited for in order to provide hygienic products for building occupants.
Compare and contrast hand dryers' cost effectiveness, sanitary features, sustainability, and their positive environmental impact to other products, including their paper towel counterparts.
Explain how to determine which hand dryers are needed for each restroom and how to ensure compliance with ADA guidelines so that all people are able to use hand dryers comfortably.
Analyze applications and explain how high-speed hand dryers may help a building earn LEED points and contribute to green building principles to best protect the welfare of people.