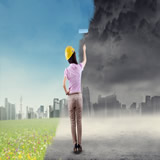 Creating Healthy Environments with Advanced Paint Technology

About the Sponsor
When it comes to premium paints and stains for your home, Benjamin Moore has set the standard for excellence, since 1883. We manufacture our own resins and exclusive Gennex® colorants, which deliver superior performance and application properties in every product. Paired with our incomparable selection of authentic colors, Benjamin Moore paints are formulated to help you achieve beautiful, lasting results—every time you paint. To find a Benjamin Moore retailer near you, visit
Course questions/comments
(866) 708-9181
Date:
Wednesday December 20, 2017 12:00 pm 1:00 pm EST
Architectural paints can contribute significantly to healthier environments. In this discussion, we'll delve into the components of paint that impact sustainable design including independent testing methods and standards, LEED v4 categories, and the specification of paint systems.
Learning Objectives:
1. Discuss sustainability and its impact on socially responsible GREEN design.
2. Explain what a volatile organic compound is, and what the growing concerns are.
3. Ascertain the evolution of advance technology in paint and coatings.
4. Describe various industry testing methods and standards used to certify "green" products, and how these standards are referenced and used by LEED.
5. Identify the factors for specifying a paint system.
6. Identify and discuss future trends in sustainable design and paint technology.