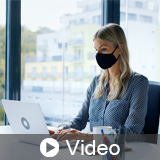 Combatting COVID-19: How LEED Safety First Pilot Credits Can Help Manage Buildings

About the Sponsor
GreenCE's mission is to support the necessary transition to a sustainable built environment by empowering design professionals to address the environmental, economic, and social impacts of buildings. GreenCE's course catalog includes LEED exam preparation, continuing education to maintain your AIA or LEED credential, as well as specialty education focused on topics such as ADA/Barrier-Free requirements. We are committed to designing the highest quality continuing education programs in the construction industry.
Course questions/comments
(800) 248-6364
The COVID-19 Pandemic has caused significant damage to the global economy and disrupted people's lives. In this course we will identify COVID-19 challenges with respect to building occupancy, public health, and social equity. We will review LEED v4.1 BD+C Safety First Pilot Credits and discuss their possible impact on building occupant's health. Our team provides a deep-dive into the AIA Re-occupancy Assessment Tool and how design professionals can prioritize the health of building occupants. Finally, our team discusses how LEED can help stimulate the economy and bring about a healthier standard of living for all.
Learning Objectives:
Identify COVID-19 challenges with respect to building occupancy, public health, and social equity
Review LEED v4.1 BD+C Safety First Pilot Credits and discuss their possible impact on building occupant's health
Understand the AIA re-occupancy assessment tool and its integration with LEED v4.1 BD+C Safety First Pilot Credit: Re-enter your workplace
Discuss the LEED v4.1 BD+C Safety First Pilot Credits and how they support the USGBC's economic recovery strategy for future pandemic planning