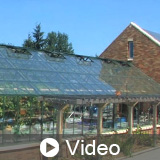 Cultivating Young Minds: A Net-Zero School for Tomorrow's Leaders - Update

About the Sponsor
GreenCE's mission is to support the necessary transition to a sustainable built environment by empowering design professionals to address the environmental, economic, and social impacts of buildings. GreenCE's course catalog includes LEED exam preparation, continuing education to maintain your AIA or LEED credential, as well as specialty education focused on topics such as ADA/Barrier-Free requirements. We are committed to designing the highest quality continuing education programs in the construction industry.
Course questions/comments
(800) 248-6364
A new Music and Science complex was added to the Hood River Middle School in 2010, earning LEED Platinum certification. Through a series of interviews with the school faculty and the design team, we explore the creation of a net-zero-energy building that complements the children's studies of the balance of nature. Learn how the school's existing permaculture curriculum drove the sustainable design of the building and resulted in achieving the 'School as a Teaching Tool' credit with one of the most robust sustainable curriculums in the world. The building that teaches and extends its sustainable education to the community, earning the project another innovation credit for Green Building Education.
Learning Objectives:
Describe the Innovation in Design Green Building Education credit that the Hood River Middle School earned, and differentiate it from the 'School as a Teaching Tool' Credit
Explain strategies used in the project for water efficiency, reduction of material use and enhancing the indoor environment.
List the requirements for the 'School as a Teaching Tool' Credit in the LEED for Schools, and describe how the Hood River Middle School integrated them through hands on learning
Relate the synergies amongst the education and participation of the students (ID c3) with Optimizing Energy Performance (EAc1) and On-Site Renewable Energy (EAc2)