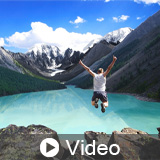 Don't Build Here: Site Selection Strategies to Protect our Wild Spaces - Update

About the Sponsor
GreenCE's mission is to support the necessary transition to a sustainable built environment by empowering design professionals to address the environmental, economic, and social impacts of buildings. GreenCE's course catalog includes LEED exam preparation, continuing education to maintain your AIA or LEED credential, as well as specialty education focused on topics such as ADA/Barrier-Free requirements. We are committed to designing the highest quality continuing education programs in the construction industry.
Course questions/comments
(800) 248-6364
Our planet is facing significant environmental challenges. There are over 7 billion people on our planet vying for limited resources. Our oceans are overfished, polluted with toxic chemicals, plastic, and sewage. Our forests have been clearcut for timber, mining, and livestock purposes. We are living in the 6th mass extinction, with a large number of plants and animals being annihilated every year. The good news is that there are strategies to solve these challenges and ensure a future for our children. This presentation focuses on selecting a sustainable site for building a LEED project. The intended audience for this course includes architects, engineers, contractors, owners, and other design professionals who want to reduce the environmental impact from the site selection process for buildings. Course participants will learn how to achieve the Sensitive Land Protection credit for the LEED v4 BD+C rating systems. In addition, participants will learn how to utilize tools such as the NRCS web based soil surveys, FEMA Flood Map Service Center, and NatureServe.
Learning Objectives:
List the ecological benefit provided by wetlands and prime farmland
Identify minor improvements that may be made within wetlands to enhance appreciation of them under the Sensitive Land Protection LEED credit
Identify the requirements for the LEED BD+C credit Sensitive Land Protection
Describe the importance of the Endangered Species Act in helping to select appropriate sites for development