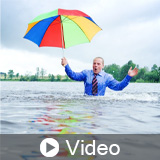 Don't Get Soaked: Smart Strategies to Manage Rainwater - Update

About the Sponsor
GreenCE's mission is to support the necessary transition to a sustainable built environment by empowering design professionals to address the environmental, economic, and social impacts of buildings. GreenCE's course catalog includes LEED exam preparation, continuing education to maintain your AIA or LEED credential, as well as specialty education focused on topics such as ADA/Barrier-Free requirements. We are committed to designing the highest quality continuing education programs in the construction industry.
Course questions/comments
(800) 248-6364
Stormwater runoff in urban areas is one of the leading sources of water pollution in the United States. As the runoff flows over the land, paved streets, parking lots, and building rooftops, it accumulates chemicals, sediment or other pollutants that can adversely affect water quality if the runoff is discharged untreated. Through a series of video interviews with specialists from the City of Portland, we explore green infrastructure (GI) and low-impact development (LID) rainwater management strategies. Green Roofs, bioswales, and cisterns are all design strategies explored through video case studies. The intended audience for this course includes design professionals who want to manage stormwater runoff, protect and restore watersheds, and create more sustainable building sites. Course participants will learn how to achieve the Rainwater Management credit for LEED v4 BD+C and O+M rating systems. In addition, participants will learn how green infrastructure can bring nature into an urban area, which can improve both mental and physical health, increase property value, and enhance wildlife habitat.
Learning Objectives:
Describe green infrastructure (GI) and low-impact development (LID) rainwater management strategies and how they can prevent flooding onsite
Review strategies to evaluate performance of rainwater management practices, using freely available online tools
Explain how to achieve the Rainwater Management credit in LEED using the percentile approach - in O+M and Option 1 in BD+C and avoid pollution and erosion problems
Define percentile rainfall event