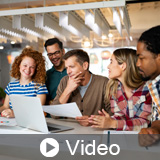 EPDs Versus HPDs: Sustainability Showdown

About the Sponsor
GreenCE's mission is to support the necessary transition to a sustainable built environment by empowering design professionals to address the environmental, economic, and social impacts of buildings. GreenCE's course catalog includes LEED exam preparation, continuing education to maintain your AIA or LEED credential, as well as specialty education focused on topics such as ADA/Barrier-Free requirements. We are committed to designing the highest quality continuing education programs in the construction industry.
Course questions/comments
(800) 248-6364
The choices we make when specifying building materials can have significant effects on the planet and human health. The world is facing cataclysmic issues such as climate destabilization, pollution, biodiversity loss, deforestation, and greenhouse gases. Construction produces vast volumes of waste and consumes colossal amounts of energy. Design professionals can make a difference in minimizing the damage to the environment and human health by selecting better building materials. In this course, we compare and contrast Environmental Product Declarations (EPDs) and Health Product Declarations (HPDs) and how they integrate into LEED v4.1 to create sustainable projects. We challenge myths and misinformation about EPDs and HPDs and how these transparency documents can benefit design professionals, manufacturers, and building occupants.
Learning Objectives:
Compare and contrast Environmental Product Declarations (EPDs) and Health Product Declarations (HPDs) and how they integrate into LEED v4.1 to create sustainable projects
Review resources for EPDs and HPDs and how these transparency documents used in LEED can benefit design professionals, manufacturers, and building occupants
Describe the intent and main features of the LEED v4.1 BD+C and ID+C Credit: Environmental Product Declarations (EPDs) and how it can help reduce environmental harm
Examine the intent and main features of the LEED v4.1 BD+C and ID+C Credit: Material Ingredients and how HPDs can help make healthier buildings for occupants