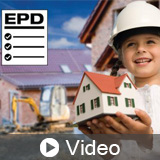 Environmental Product Declarations (EPDs): Specifying Sustainable Materials to Save the Planet - Update

About the Sponsor
GreenCE's mission is to support the necessary transition to a sustainable built environment by empowering design professionals to address the environmental, economic, and social impacts of buildings. GreenCE's course catalog includes LEED exam preparation, continuing education to maintain your AIA or LEED credential, as well as specialty education focused on topics such as ADA/Barrier-Free requirements. We are committed to designing the highest quality continuing education programs in the construction industry.
Course questions/comments
(800) 248-6364
Environmental Product Declarations (EPDs) have been gaining fast recognition as the gold standard of product disclosures. We explore the inherent limitations of these tools, and discuss potential strategies for project teams to use EPDs for product specification.
Learning Objectives:
Describe how to achieve MR Credit: Building Product Disclosure and Optimization-EPD in LEED v4
Identify the current limitations of making comparisons between products, and how these can be overcome
Explain what an Environmental Product Declaration is, how it is developed, and what purpose it serves
Perform LEED compliance calculations for MR Credit: Building Product Disclosure and Optimization-EPD