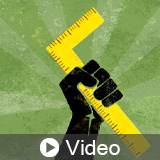 Green Anarchy: Renegades Who Changed Design - Update

About the Sponsor
GreenCE's mission is to support the necessary transition to a sustainable built environment by empowering design professionals to address the environmental, economic, and social impacts of buildings. GreenCE's course catalog includes LEED exam preparation, continuing education to maintain your AIA or LEED credential, as well as specialty education focused on topics such as ADA/Barrier-Free requirements. We are committed to designing the highest quality continuing education programs in the construction industry.
Course questions/comments
(800) 248-6364
The world is in grave danger. Climate destabilization, rampant industrialization, environmental destruction, pollution, and species extinction are problems significantly impacting our natural world. The environmental movement was launched to protect our natural world, reduce pollution, and to protect animal and plant diversity. This documentary will focus on neglected pioneers in the environmental movement as well as a few well known figures. Through video interviews and historical vignettes we will explore the work of educators, practitioners, philosophers, and influential harbingers of change. We will examine how anarchistic ideas, decentralization, and other belief systems have played a role in architecture, urban planning, and in overcoming environmental challenges. The intended audience for this course includes architects, engineers, contractors, students, and other design professionals who want to learn more about participatory architecture, urban planning, and how anarchistic ideas have influenced design. Course participants will learn about environmental discrimination, social equity, community-based approaches to urban planning, ecofeminism, and deep green resistance movements.
Learning Objectives:
Summarize Giancarlo de Carlo's criticisms of public housing and universities
Identify the benefits of squatter settlements according to John Turner
Discuss the views of Elisee Reclus on nature and the role of cities and explain how Ebenezer Howard's garden city differs from an industrial city
Describe the crucial role of streets and sidewalks according to Jane Jacobs