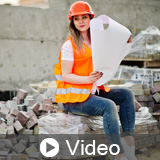 Recycling for Resilience: Mitigating Carbon in LEED

About the Sponsor
GreenCE's mission is to support the necessary transition to a sustainable built environment by empowering design professionals to address the environmental, economic, and social impacts of buildings. GreenCE's course catalog includes LEED exam preparation, continuing education to maintain your AIA or LEED credential, as well as specialty education focused on topics such as ADA/Barrier-Free requirements. We are committed to designing the highest quality continuing education programs in the construction industry.
Course questions/comments
(800) 248-6364
The impending climate crisis casts a looming shadow over our planet, and the responsibility to avert catastrophe falls upon us all. Design professionals can wield their creative powers to conceive sustainable, resilient, and regenerative solutions before it's too late. Diverting construction waste from landfills and promoting recycling, reuse, and responsible disposal practices can significantly contribute to reducing carbon emissions. In this course, we explore how design professionals can leverage strategies in LEED v4.1 BD+C and ID+C ratings systems to reduce carbon and transform the built environment.
Learning Objectives:
Discuss the LEED v4.1 BD+C and ID+C Storage and Collection of Recyclables prerequisite and how it can reduce carbon emissions and reduce harm to ecosystems.
Describe how the LEED v4.1 BD+C and ID+C Sourcing of Raw Materials credit can reduce carbon emissions, promote products made from recycled content, and reduce waste.
Explain how the LEED v4.1 BD+C and ID+C Construction and Demolition Waste Management credit can reduce carbon emissions and promote the reuse and recycle of materials.
Review historical data about construction waste and best practices to implement to reduce greenhouse gas (GHG) emissions and promote sustainable design.