3 Reasons Why Your National Sales Manager Should Be Fired
What's your biggest specification struggle and how are you trying to solve it? What specification strategies do you have up your sleeve that could help save time and money for your company? Why should a National Sales Manager be fired? Let's find out . . .
Magazine Ads Equal Poor ROI
In a previous blog, Why Magazine Ads Are Worthless for Product Manufacturers, we examined why magazine ads offer poor ROI. In 2019, if a National Sales Manager or decision maker at a company is investing thousands of dollars in industry trade publications, magazines, brochures, or other hardcopy paid advertisements, they need to be fired.
"When you develop your opinions on the basis of weak evidence, you will have difficulty interpreting subsequent information that contradicts these opinions, even if this new information is obviously more accurate," says author Nassim Taleb. Let's review the overwhelming evidence that magazine ads offer poor ROI compared to other forms of brand awareness with strong metric models.
Total print advertising in the United States dropped by over $30 billion between 2011 and 2016. US digital ad spending is expected to reach $129.34 billion in 2019. Read that again if the numbers didn't sink in. If you're a building product manufacturer and you're spending budget dollars on print advertising to reach the decision makers, you better think again. There are some markets where print advertising may still work (granny cutting out coupons from a Metamucil advert to save 50 cents), but by and large this is a huge waste of budget resulting in poor ROI.
Recently, I talked to a sales manager who had been on the job for a product manufacturer for two years. The first year the sales manager continued the previous manager's budgetary expenditure for magazine adverts that was well over $100,000. He was shocked by the zero ROI on the investment and by year two he had ceased all $100,000 magazine advert expenditures. The company could not connect the dots from full page adverts in trade publications to specifications, brand awareness, and AEC interest in their products.
How can a building product manufacturer justify budget dollars for print advertising through a magazine advert? Is that $3000 full page ad that you just paid for going to magically persuade the top architects and specifers in the country to select your product? There are three primary methods that building product manufacturers utilize to determine the effectiveness of magazine ads and all three are unsatisfactory for calculating ROI.
• Free Mail-In Information Cards. We've all seen the flimsy paper mail-in cards in magazines that have hundreds of numbers on them representing manufacturers. Architects are supposed to find the products that they're interested in and circle the number to receive their free product information. How many architects do you know that still mail in paper product information requests and wait eagerly by the mailbox to receive this tantalizing information? This have may have worked in 1987 but times have changed in 2019. Architects and spec writers don't need a mountain of paper scraps on their desks. It's a potential fire hazard.
• Manufacturer Website URL. Most magazine adverts contain the manufacturer's website URL. The architect is supposed to type in the URL in their computer based on a paper advert. How would the manufacturer even know the printed advert caused a chain reaction so that a specifier contacted them? There is almost no way to track this metric.
• Printed AIA Continuing Education Course. These CE courses have roamed the earth since the Flintstones. In their day, which is about 10,000 B.C., they were an effective tool in reaching the design community. How many architects do you know that still read a magazine article to obtain their AIA education hours? The only major benefit here compared to the other ROI methods is that a design professional was educated to some degree about the sponsor's building product. However, online anytime courses, webinars, and classroom events provide a more effective use of budget dollars than a magazine-based education course. Magazine education courses offer less engagement, interactivity, and specification opportunities.
Overall, print advertising is a waste of precious marketing dollars. Most architects, spec writers, engineers, interior designers, contractors, and other design professionals utilize portable devices such as laptops, tablets, and smart phones. Traditional advertising in magazines and trade publications is declining rapidly. Internet marketing, online courses, and webinars can target specific demographics such as architects. Architects can immediately proceed with a call to action with an internet-based strategy as opposed to a paper-based antiquity.
If your National Sales Manager is spending thousands of dollars on print advertising, ask them if they want to invest in a new fax machine business because it's the wave of the future or perhaps the sundial, telegraph, or phone book. Things always become obvious after the fact.
The Specification Process
You would assume that someone who is a National Sales Manager or a major decision maker for a product manufacturer, would be well versed in the product specification process. However, I still talk to manufacturers who have no idea how products are specified. Some of them even think you take a P.O. to the architect to fill out!
Some manufacturers have been able to grab the low-hanging fruit by calling on contractors for years only to realize that their goal should have been to be in the specs from the beginning. In a previous blog, The 5 Costliest ROI Mistakes Manufacturers Make Trying to Influence the Specification Process, we discussed one of the most significant mistakes a manufacturer could make was not understanding the specification process.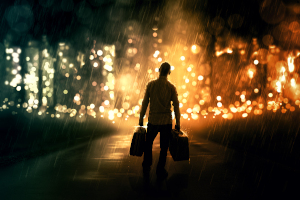 Building product manufacturers that don't understand the specification process can lose out on jobs they're not aware of, create headaches for the contractor, create more work for the architect, and be judged harshly by the AEC firm if the process is delayed. Direct intervention from a product sales rep to request a substitution is the most expensive and least effective way to influence the specification process.
Without a working background in product specification, it is impossible for a sales manager, product rep, or marketing person to understand how, why, and when product decisions are made. Stop reactionary selling. Get involved early in the process. Get involved early in the process. You must understand the specification process to close the deal.
Someone that doesn't understand the specification process should not be the National Sales Manager of a company. They should be fired or moved to another position. It is critical that whoever is marketing your products and educating design professionals fully understands the specification process. The Spec Shaman book is an excellent resource for those new to the industry and professionals seeking to learn more about the specification process.
Performance Is Outcomes
"Performance is outcomes, not the activities that cause the outcomes. Hours open, sales calls made, miles flown, time invested, seminars given, products sampled, are not outcomes. They are business-getting activities, actions, tactics," says author Jeffrey Fox.
Sales Managers and building product reps need to have their performance goals clearly defined. Team members that generate revenue for the company and obtain new customers should be rewarded. Performance is not how many contractors a product rep visited. Performance is not how many bids went out. Performance is outcomes. If your company has a bunch of unmotivated, lazy, sales guys that spend more time sitting at their desk playing fantasy football and telling dirty jokes than hitting the streets, shaking hands, and locking down specs, then they need to walk the plank.
"What matters isn't what a person has or doesn't have; it is what he or she is afraid of losing," says author Nassim Taleb. If a National Sales Manager doesn't have skin in the game, then they won't be motivated to achieve better outcomes for a company. If a National Sales Manager is willing to spend thousands of dollars on worthless magazine ads, PDF AIA courses, and ineffective marketing strategies, they should be held accountable.
How does your company judge a National Sales Manager's success? What metrics do you use to determine ROI for marketing programs?
For more information or to discuss the topic of this blog, please call Brad Blank at 360-727-3528.