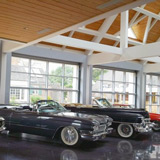 Architectural Vertical Opening Solutions - Plus!

About the Sponsor
Renlita Custom Opening Solutions specializes in custom design and fabrication of vertical and horizontal operating doors. With a variety of options and capabilities, Renlita products can be used in retail, commercial and residential applications. Renlita's in house design team works with architects and customers to meet their individual design objectives. Every project is shipped complete including finishes, glass, cladding, motor and accessories.
Course questions/comments
(903) 486-3126
Wednesday, January 19, 2022 - 12:00pm to 1:00pm EST
In this course, we will discuss vertical operating systems to better understand their construction and the operating systems used in each type. Characteristics of various types of vertical operating systems will be presented as well as limitations to consider when specifying the right product for each unique project. An emphasis will be placed on safety features, the ease of operating the systems, and compliance to codes, to ensure each product is performing effectively in a cost-effective manner that can be incorporated into the building structure of projects. Additionally, an array of applications will be demonstrated to showcase ways that vertical operating systems may provide an aesthetic solution that ultimately benefits the welfare of building occupants by bringing in elements of nature while contributing to sustainable initiatives.
Learning Objectives:
Compare and contrast various types of vertical operating systems as well as identify the advantages and disadvantages of each to reveal operational, maintenance, and safety features
Explain how vertical operating systems interact with the building structure to utilize the design space more efficiently and reduce energy costs
Determine how counterweight balance systems benefit users in terms of ease of operability as well as contribute to the welfare of occupants by allowing more natural daylighting into buildings
Describe how vertical operating systems comply with required regulations, reduce material waste, and contribute to a sustainable design with LEED certification