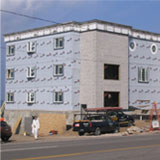 The Big Disconnect - The Importance of Wall to Roof Connections for the Air Barrier

About the Sponsor
The Air Barrier Association of America (ABAA) is a national, not-for-profit trade association that consists of a wide cross section of stakeholders in the building enclosure industry. Their membership includes manufacturers, architects, engineers, trade contractors, researchers, testing & audit agencies, consultants and building owners. ABAA is the national voice of the air barrier industry and has raised the level of quality in the industry through a Quality Assurance Program and offers premier training, certification, product evaluations, contractor accreditation and site quality control audits. ABAA is active in the areas of research, education, standards development, building codes and technical resources for the air barrier industry. ABAA is focused on leading the industry into the future in a progressive and professional manner.
Wednesday, September 27, 2023 - 12:00pm to 1:00pm EDT
As more states, jurisdictions and the design community require air barriers, the issue of connecting the wall air barrier assembly to other building assemblies, such as below grade, window systems and roofs need to be completely understood in order to design and construct a functioning building enclosure. One of the most often missed or not well executed details is the connection between the wall air barrier and roof assembly. With a myriad of roof systems, wall configurations and the growing number of wall air barrier products, it can be difficult to navigate the process in regards to what systems work best with each other and the chemical compatibility of these systems. This presentation will focus on things to consider from a design standpoint, along with practical approaches to ensuring a robust connection is constructed and executed.
Learning Objectives:
Understand why the roof/wall air barrier intersection is critical to building performance in regards to moisture management and air leakage control and common design and field errors
Become aware of compatibility issues related to wall and roof air barrier components for the myriad of air barrier and roofing assemblies that exist on the market today
Identify pre-construction coordination items to review and allocation of responsibilities to sub-trades for proper execution of connection
Review requirements for detailing the roof/wall interface and the sequence of construction for most common roof/wall air barrier connections