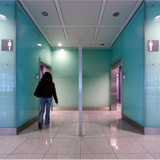 Commercial Restroom Design to Promote Safety, Sustainability, and Savings

About the Sponsor
Excel Dryer, Inc. is a family-owned and operated small business that has been manufacturing the finest American-made hand dryers for over 50 years and the only ones that are Made In USA Certified®, featuring the original, patented, high-speed, energy-efficient XLERATOR® Hand Dryers. XLERATOR hand dryers patented technology completely dries hand three times faster (in 10-15 seconds) while using 80 percent less energy than conventional hand dryers. XLERATOR models represent a 95 percent (or more) cost savings when compared to paper towels and eliminate their maintenance and waste, while creating a more hygienic restroom environment. Excel's hand dryers were among the first to have Environmental Product Declarations (EPDs) and Health Product Declarations (HPDs) helping facilities qualify for the most LEED® Credits.
Course questions/comments
413.297.9377
Tuesday, November 15, 2022 - 12:00pm to 1:00pm EST
This course is designed to help you consider what it takes to design restrooms that are sustainable and safe, without breaking the bank.
Learning Objectives:
Articulate the role that commercial restrooms play in supporting occupant health and well-being
Identify key safety considerations within commercial restrooms, to protect building occupants
Describe sustainability considerations within commercial restrooms, including those that promote occupant well-being
Recognize opportunities for cost savings when designing commercial restrooms