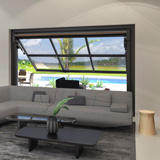 Creating Flexible Spaces Using Vertical Openings

About the Sponsor
Renlita Custom Opening Solutions specializes in custom design and fabrication of vertical and horizontal operating doors. With a variety of options and capabilities, Renlita products can be used in retail, commercial and residential applications. Renlita's in house design team works with architects and customers to meet their individual design objectives. Every project is shipped complete including finishes, glass, cladding, motor and accessories.
Course questions/comments
(903) 486-3126
Wednesday, August 24, 2022 - 12:00pm to 1:00pm EDT
This one-hour course discusses vertical opening systems, how they're built, differences in operation, and typical uses for interior and exterior applications. We will also consider features that influence the end user's experience, including structural and electrical needs that can affect your flexible space's final design.
Learning Objectives:
Identify the different types of vertical openings and determine which is the most durable and safe for building occupants
Explain benefits, drawbacks, and features to provide comfortable, usable, and durable flexible spaces for end users
Describe and plan for structural and electrical requirements for each type of opening, and understand how that affects the design of the opening/building and how it impacts the safety of the building occupants
Accurately and confidently specify the opening system that best aligns with the project's design objectives while accounting for project limitations as well as occupant comfort