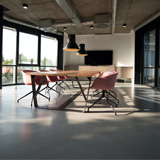 Design It Healthy, Keep It Healthy: Strategies to Support Resilient, Healthy Interiors

About the Sponsor
Chemical Insights Research Institute (CIRI) of Underwriters Laboratories Inc., a nonprofit organization, is dedicated to scientific research, publication, education, and communication on environmental exposures resulting from technologies and practices, their impact on human health and processes for reducing risks. CIRI provides actionable data and resources to help manufacturers, educators, healthcare providers, and consumers make informed environmental health decisions.
Our work lets people around the world know what chemicals are in the air we breathe, the water we drink, and the products we interact with every day. Our leadership role is to provide science or knowledge to implement improved practices, alternative product design, and changes that enable safer products and healthier environments.
Tuesday, September 20, 2022 - 12:00pm to 1:00pm EDT
A building's resilience is often thought of as its ability to withstand the impact of external stressors. But, there are also many internal stressors that can contribute to a building's resilience, and ultimate the health of the building and the people inside it. This session will build on the concept, "Design It Healthy, Build It Healthy, Keep It Healthy" with a focus on smart construction practices and systems and material selections. Participants will explore research-based strategies and case studies to gain knowledge of specifying resilient, healthy materials and employing resilient practices. Participants will also leave with resources to employ "Design It Healthy, Build It Heathy, Keep It Healthy" in their work.
Learning Objectives:
Define resiliency, external stressors, and internal stressors as they relate to the built environment
Describe how exterior conditions can affect the interior conditions of buildings
Explore research-based strategies and case studies to gain knowledge of how to specify resilient, healthy materials and employ resilient practices
Utilize resources to design it healthy and keep it healthy