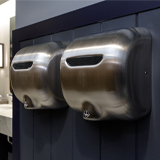 Designing Touchless Solutions for Proper Hand Hygiene in Commercial Restrooms

About the Sponsor
Excel Dryer, Inc. is a family-owned and operated small business that has been manufacturing the finest American-made hand dryers for over 50 years and the only ones that are Made In USA Certified®, featuring the original, patented, high-speed, energy-efficient XLERATOR® Hand Dryers. XLERATOR hand dryers patented technology completely dries hand three times faster (in 10-15 seconds) while using 80 percent less energy than conventional hand dryers. XLERATOR models represent a 95 percent (or more) cost savings when compared to paper towels and eliminate their maintenance and waste, while creating a more hygienic restroom environment. Excel's hand dryers were among the first to have Environmental Product Declarations (EPDs) and Health Product Declarations (HPDs) helping facilities qualify for the most LEED® Credits.
Course questions/comments
413.297.9377
Wednesday, December 13, 2023 - 12:00pm to 1:00pm EST
How can commercial restroom design reduce touchpoints, promote proper hand hygiene, and reduce the spread of infection? This course explores this timely question. Attendees will first hear an overview of hygienic restroom design, learning about key elements, such as reducing touching points, improving air quality, and optimizing waste management. Next, the course explores proper hand hygiene techniques, something 97% of consumers fail to do before a meal. Next, the course details the relationship between hand dryers and hand hygiene, including the history of hand dryers, factors to consider when selecting them, and how they compare to paper towels in terms of hand hygiene. Attendees then learn the basics of sustainability considerations, including the results of EPDs and LCAs. The course wraps up with a sneak peek into the future of commercial restroom design, including the impact of the COVID-19 pandemic and the resulting focus on reducing the spread of infection.
Learning Objectives:
Identify how to design a touchless, hygienic restroom environment that supports health and wellbeing
Define proper hand hygiene techniques and the role it plays in commercial restroom design
Detail how including hand dryers in your commercial restroom design can mitigate the spread of germs improving workplace health and safety
Recognize key sustainability attributes of hand dryers, and the future evolution of commercial restroom design