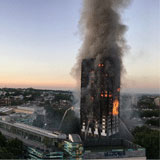 Research Scientists' Perspectives on Climate Impacts for Building Environment & Materials

About the Sponsor
Chemical Insights Research Institute (CIRI) of Underwriters Laboratories Inc., a nonprofit organization, is dedicated to scientific research, publication, education, and communication on environmental exposures resulting from technologies and practices, their impact on human health and processes for reducing risks. CIRI provides actionable data and resources to help manufacturers, educators, healthcare providers, and consumers make informed environmental health decisions.
Our work lets people around the world know what chemicals are in the air we breathe, the water we drink, and the products we interact with every day. Our leadership role is to provide science or knowledge to implement improved practices, alternative product design, and changes that enable safer products and healthier environments.
Friday, June 23, 2023 - 12:00pm to 1:00pm EDT
Scientists are considering extreme conditions in their research and how materials used to design and construct our buildings are impacted by temperatures increasing, extreme water events and increasing humidity levels, and the challenge of fire and heat resulting from increasing wildland urban interface fires. Scientists will share their ongoing research into the impact of changing environmental conditions on the release of chemicals, unexpected chemical transformations, microbiological growth, and resulting fire emissions and residues. They will discuss how this research may translate into tools for the building community, offering a glimpse into the future of designing healthy and durable materials and buildings.
Learning Objectives:
Identify how architects and scientists collectively drive market transformation towards healthier spaces
Describe the impact of evolving environmental conditions related to climate change on building products and materials
Describe the tools and technologies used to quantify the impact of extreme weather events on human health and well-being within the built environment
Recognize the potential of new scientific research to impact future design choices