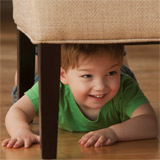 Specifying Residential Upholstered Furniture to Safeguard Human Health

About the Sponsor
Chemical Insights Research Institute (CIRI) of Underwriters Laboratories Inc., a nonprofit organization, is dedicated to scientific research, publication, education, and communication on environmental exposures resulting from technologies and practices, their impact on human health and processes for reducing risks. CIRI provides actionable data and resources to help manufacturers, educators, healthcare providers, and consumers make informed environmental health decisions.
Our work lets people around the world know what chemicals are in the air we breathe, the water we drink, and the products we interact with every day. Our leadership role is to provide science or knowledge to implement improved practices, alternative product design, and changes that enable safer products and healthier environments.
Friday, May 20, 2022 - 12:00pm to 1:00pm EDT
Is it possible to specify residential upholstered furniture that protects people from both fire and chemical hazards? This course explores this issue and highlights research related to fire barrier technology. By better understanding the history of flame retardants and their impact on human health, current residential fire trends, strategies for evaluating ignition resistance of furniture, and the research results demonstrating the superior performance of a fire barrier, residential interior designers can better safeguard human health and well-being on their next project.
Learning Objectives:
Describe common flame retardants used in residential upholstered furniture and their impact on human health.
Explain the role of upholstered furniture in residential fires.
Discuss various strategies for evaluating ignition resistance in residential upholstered furniture and the history of flammability standards.
Summarize the role of a fire barrier in slowing ignition and safeguarding human health.