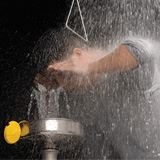 Tepid Water; ANSI Z358.1 Compliance, Safety System Considerations

About the Sponsor
Rheem Commercial Water brings together our family of brands to offer a comprehensive product portfolio designed to meet the water heating needs of any commercial project. Backed by a team of experts, providing personalized service including consulting, training, sizing, and technical assistance to ensure timely support when customers need it most.
Tuesday, October 10, 2023 - 12:00pm to 1:00pm EDT
A variety of commercial and industrial applications, from warehouses to schools, rely on Emergency Eyewash & Shower Equipment to protect occupants from chemicals, irritants, and other biohazards with which they might come in contact in their workplace. Join us in this one-hour course as we discuss ANSI Z358.1 compliance, focusing on the role tepid water plays in safety system design and specifications. Participants will learn about the risks of non-compliance to both occupants and owners, as well as how to specify and maintain water heating technologies that facilitate code compliance.
Learning Objectives:
Define tepid water and its role in complying with the requirements for ANSI Z358.1, the American National Standard for Emergency Eyewash & Shower Equipment
Recall the risks of non-compliance that put workers in danger of health issues and bodily injuries and put businesses in danger of liability lawsuits
Explain the specific requirements for ANSI Z358.1 and how to ensure Emergency Eyewash & Shower Equipment are installed, operated, and maintained properly
Compare water heating technologies and identify the benefits of utilizing a tankless electric water heating system to comply with ANSI Z358.1